NParks Explore A Route Mobile App
NParks Explore A Route (NEAR) Mobile App
The NParks Explore A Route (NEAR) mobile app is NParks' first augmented reality (AR)-enabled mobile application, designed to complement the C2C Trail, the Round Island Route (RIR), as well as the Park Connector Network (PCN) for an interactive curated walking experience island-wide.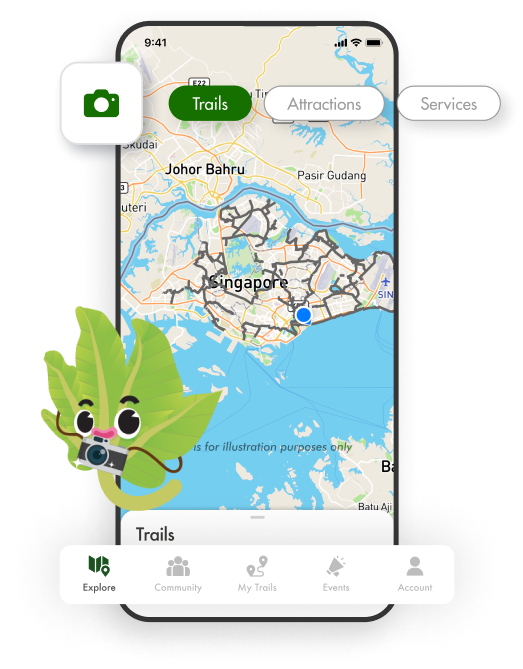 Click here to download the NEAR mobile app!
Start your NEAR journey today!
 
 
 
 
Explore the PCN and trails across Singapore via the integrated map and enjoy the interesting sights and attractions along the way!
 
 
Participate in the latest events!
Join in the challenges to accumulate points and stand a chance to win prizes. Take a photo and share your experience in-app. Just remember to make sure that your phone has enough juice to last!
 
 
 
 
 
 
NEAR New Year Challenge!
30 Dec 2022 to 12 Feb 2023
---
The NEAR New Year Challenge has ended. Thank you for your enthusiastic support!
Congratulations to the five winners of the Fitbit Sense 2 smartwatches (worth $500 each) and the ten winners of the Fitbit Inspire 2 smartwatches (worth $200 each)! 🎉
Click here to view the list of winners.
---
This challenge is organised in partnership with Explore a Route SG. Find out more about their Coast-to-Coast Challenge and stand a chance to win attractive prizes sponsored by Asics and more! https://www.instagram.com/explorearoute_sg/
Event FAQ and T&Cs
Download links for the NEAR Mobile App: